Brand Spotlight – Deli Coco
Sometimes when something new comes into the store, you know you've just gotta try it. That was the case when we saw these Deli Coco Coconut Chunks arrive. Apparently, they are made from fresh coconut, and baked instead of fried. They are vegetarian, vegan, gluten free, and free from MSG too.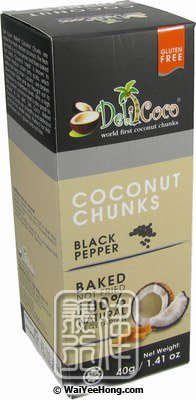 The baked coconut chunks come in a number of flavours: Original, Honey, Black Pepper, Caramel, Spicy. Each pack is 40g, which once you start eating works out to be a good portion for sharing. The ingredients lists are short and simple with no added flours or starches for texture, and we can imagine they would make a great find for those on a gluten free diet.
What they say:
"Deli Coco Baked Coconut Chunks are made from fresh, mature coconuts… Deli Coco Baked Coconut Chunks are a healthy and delicious snack for the whole family. Perfect for kids' lunchboxes as it is gluten and nut free."
What we think:
They're surprisingly addictive. They have a fantastically aromatic coconut taste and are wonderfully crunchy without being at all hard. We're hoping that as they're apparently high in nutrients, with zero cholesterol, they can count towards one of our 'five-a-day'.