Product Spotlight – MasFood White Curry Noodles

Malaysian white curry noodle has reached the UK! We stock a few brands, including this Masfood Mee Kari Putih. Sometimes, all you can manage to pull together is an instant noodle, but why not 'pimp it up' to make a proper meal? These White Curry Noodles are great for a flavoursome and satisfying meal for the mid-week slump!
First, let's prepare some boiled eggs! These are usually hard-boiled for curry noodles, but let's make gooey, runny ones. Take chilled eggs and put them straight into boiling water. Simmer them gently for 6 minutes and then drain them before plunging straight into a bowl of icy water. This way, your egg will stop cooking, and be perfectly runny when you come to serve. Peel the eggs and set aside.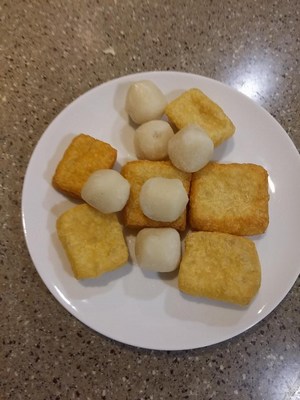 It can be handy to have some things in the freezer for adding to add to noodle dishes and quick meals. We're adding frozen tofu puffs and fish balls, but you could have anything you like – prawns, shredded cooked chicken or fresh tofu. Don't stop at the protein though. We've got a few stalks of pak choi which we've blanched quickly, but any vegetables would be nice; a handful of beansprouts, or some baby corn will help you towards your 5-a-day.
The MasFood White Curry Noodles come with a noodle cake, a sachet of curry paste for fresher curry flavour, and a sachet of creamer to make a richer soup.
The noodles only take a couple minutes, so make sure you par-boil items like fish balls first, before adding your noodle cakes and cook for 3 minutes. Towards the end of the 3 minutes, add the tofu puffs and then the sachets of curry paste and creamer and stir well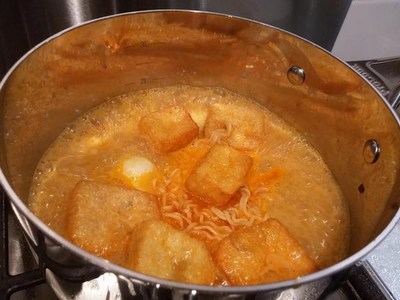 Bring the whole pot to the boil and serve. Cut your perfect gooey centre eggs in half and pile them on top, along with the fish balls, tofu puffs and vegetables. Delicious and warmingly spicy mee kari putih is ready!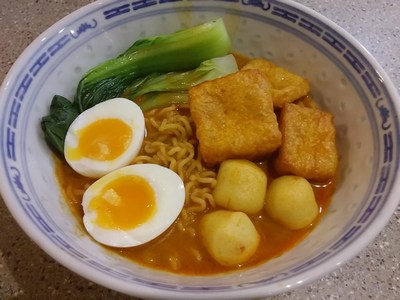 Want to try it yourself? MasFood White Curry Noodles are available in-store and online.