Staff Recommendations – Char Siu Sauce
This month's staff recommendation is from sales manager, Sandie. Sandie loves serving up home-cooked food, but likes a helping hand once in a while, which is why she recommends Lee Kum Kee Char Siu Sauce.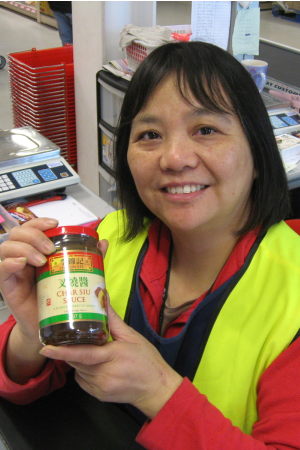 Have you ever wandered past a Chinese restaurant and wondered what the glistening cuts of meat next to the roasted duck with the delicious smell was? Char Siu is a Chinese barbecue or roasted pork, and often has a bright red colouring. What the restaurants don't want you to know, is that with a cheat ingredient, you can create this delicious roasted pork easily at home!
Simply marinade fat belly pork in Char Siu Sauce and roast in the oven for delicious, juicy Chinese Char Siu Pork. Let the meat rest, simply slice, and serve! For a low-fat version, this works just as well with pork tenderloin fillet with any extra fat trimmed off.
This marinade is also great for barbecue season. Try marinating chicken wings or making chicken or pork skewers with this delicious and sweet sauce
Suggestions
Marinade fat belly pork and roast in the oven for a quick and easy dish.
Try using tenderloin for a healthier meal.
Marinate chicken wings – great for the barbecue.
Cut up left over char siu and use to make egg fried rice!