Bristol China Partnership Award for Wai Yee Hong
Wai Yee Hong Chinese Supermarket was recently recognised for 10 years of support given to the Bristol China Partnership.
The Bristol China Partnership was formed in 1998 as a non-profit organisation with the aim of developing educational, cultural, business and sporting links between Bristol and China, with particular focus on Bristol's sister city Guangzhou.
On 3rd November 2008, a gala dinner was held at Zen Restaurant, Harbourside, Bristol in celebration of the 10th anniversary of the BCP. Wai Yee Hong was presented with an award for our many years of support to the organisation. We appreciate the dedication they have shown over the years, and wish them every success for the future.
www.bristol-china-partnership.com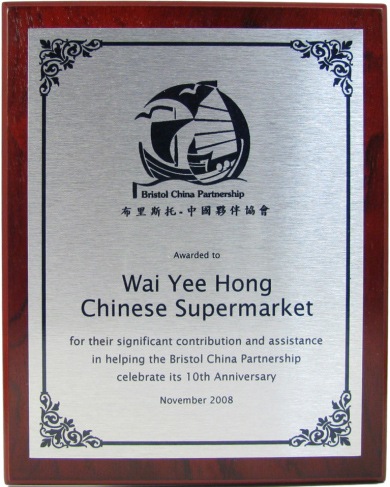 Bristol China Partnership
Awarded to
Wai Yee Hong
Chinese Supermarket
for their significant contribution and assistance
in helping the Bristol China Partnership
celebrate its 10th Anniversary
November 2008