Bubble Tea @ Wai Yee Hong, 23-24 Jun
Have you ever had bubble tea before? Why not come and join us on 23-24 June 2012, when CUPP Tea Bar rolls into Wai Yee Hong with their cute bubble tea van, 'Pearl'?
Bubble tea, also known as pearl milk tea, is a tea based drink made up with dark, chewy tapioca 'pearls' in it. This tasty drink originated in Taiwan in the 1980s with new versions emerging over the years, containing hantien jelly, coconut jelly, healthy seeds and 'popping pearls'.
Our friends at CUPP will be serving up delicious bubble and fruit teas all day Saturday and Sunday, made with a choice of Jasmine Green Tea, Ceylon Black Tea or Oolong Tea. We will also have a special discount available to Wai Yee Hong customers!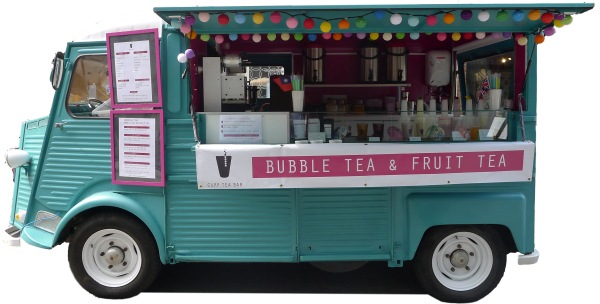 Bubble Tea
_Made with fresh milk or soya milk, tea and carefully mixed together with your choice of fresh fruit or flavour. Topped off with the famous tapioca pearls!
_
Original Milk / Mango / Honey Dew / Strawberry / Blueberry / Lychee / Taro / Mint / Vanilla / Coconut
Fruit Tea
_Refreshing fruit teas are another Taiwanese masterpiece. Simply tea infused with fresh fruit! We serve these with no tapioca pearls. Beautifully refreshing!
_
Lemon / Grapefruit / Strawberry / Honey Dew / Blueberry / Lychee / Mango