Chinese New Year 2018, Bristol
Looking for details for our Chinese New Year Bristol, 2019? Click here!
Come and celebrate with us at Bristol's biggest FREE Chinese New Year celebrations at 11.00am, on Saturday 17th February 2018. We will welcome the Chinese Year of the Dog with a bang, with traditional live firecrackers. Visitors will be treated to incredible lion dance and kung fu performances from the Yi Quin lion dance troupe and singing and dancing performances including: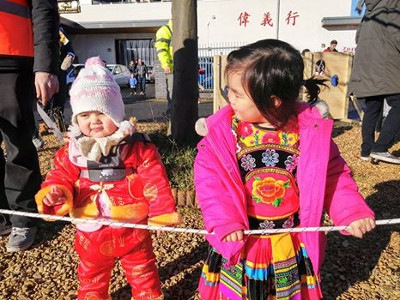 Festive New Year Market
We have you covered for delicious hot food from a variety of traders, as well as delicious Chinese bakery items from our local Chinese baker, festive Chinese gifts and face painting.
Fantastic locally-made sweet pastries like wife cake and Chinese cookies, alongside little New Year gifts and knick knacks.
Wow Faces are delighted to return to our Chinese New Year celebrations with colourful face painting and glitter tattoos.
Check out the fantastic dumplings, in a variety of flavours, by Eatchu.
Celebrate Tết, and enjoy Vietnamese specialties like Bánh mì and Vietnamese Phở from Viet Vite!
If you want fluffy hirata buns, sushi or donburi, then visit She Sells Sushi.
Fancy a little spice for the New Year? Gopal's Curry Shack are who to look for!
Bristol's very own salt beef bar, Pickled Brisket will excite your tastebuds with their flavoursome sandwiches.
Get your jerk on, with Blu Fire Smoke n Grill with their jerk pork noodle boxes.
If you fancy Thai flavours, Desy Thai will be serving up their popular Pad Thai, Green Curry and Chicken Satay.
Quiet Activities
Some young ones may find our kung fu lions a little too loud so instead, take a moment away from the busy food market and performances:
Come in-store to admire the intricately crafted papier-mâché lion head we will have on display. There are lots of interesting facts about how they are made, and information on the different styles and types of Lion Dance costumes.

Arty types can drop by our craft table, where we will have some festive makes for the little ones. Make a pretty Chinese lantern, or do some colouring in.
Our friends from Avon & Somerset Police will be joining us too, so why not pop over to their vehicle and have a look at what they are up to.
Event Details
Date: Saturday, 17th February 2018
Time: Starts at 11.00am
Entry: FREE (not ticketed, but please come early to avoid disappointment!)
Location: Eastgate Oriental City. Click for directions.
##
Year of the Dog
2018 is the Year of the Dog, which is the eleventh sign in the Chinese zodiac. Dogs are the loyal, honest and approachable sign of the zodiac! If you are aged 12, 24, 36, 48, 60, 72, 84 or 96 this year, you are more likely than not to be a Chinese Dog.
Check out my dog horoscope!
Learn more
Want to learn more about the traditions and folklore surrounding Chinese New Year? Why not take a look at:
Have a look at our celebrations from 2015, where we had an extra-special traditional lion-awakening ceremony!