COVID-19 Update
Last updated: 24/07/2020
We would like to explain the steps that Wai Yee Hong is taking to ensure that everyone has access to food and essential items during this difficult time.
In-store
We would like to assure you that we have sufficient supplies for everyone, so long as everyone shops sensibly. There are item limits on a couple of products in-store but the majority of items are available to purchase without restriction.
We have amended our opening hours to allow our staff enough time to replenish stocks and to allow for additional cleaning and disinfecting. Trolleys and basket handles are regularly cleaned and disinfected, as are the till areas.
We are currently opening 9.30am-6pm Monday-Saturday, and 10am-5pm Sunday. We are continually reviewing our opening hours, so please check before visiting.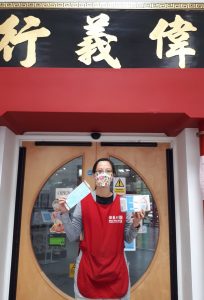 As of 24th July 2020, face coverings are required to be worn in shops and supermarkets. Please help us by having your face covering on before entering. If required, we have individual and boxes of single-use masks available to buy at the customer service desk.
For more guidance on requirements for face coverings, please see the government advice page:
https://www.gov.uk/government/publications/face-coverings-when-to-wear-one-and-how-to-make-your-own/face-coverings-when-to-wear-one-and-how-to-make-your-own
Online Shopping
Our online team is still processing online orders everyday and our courier service is delivering throughout the UK. We have implemented some item limits to our online store to enable us to process the higher order volumes and to ensure that the majority of customers are able to get what they need. We have been regularly reviewing our item limits and relaxing them where possible. Hopefully, as supply chains catch up, we will be able to do this for more products. Thank-you for your understanding while we work this out.
Click & Collect is now available 7 days a week and covers all of our ambient goods. We hope to increase our offering to include selected perishable items in the future as we get used to providing this additional service.
We have managed to increase our capacity so that our online store has returned to opening 7 days a week and we are processing more online orders than ever. However, with the most recent lockdown, we have had to limit the number of orders each day to ensure that we can maintain high levels of service to our customers.
Thank-you
Thank-you to our hardworking staff, who have continued to keep our shelves stocked for our customers. To keep everyone safe during this time, we kindly request that you wear a face covering (unless you have a legitimate reason not to) and try and keep your distance from our in-store colleagues and other customers. We would like to thank everyone for your cooperation and understanding during this difficult time.