January 2008 Food Tastings
On 12th and 13th January 2008, customers will be treated to food tastings offered by Brahims and Smiling Fish Kaao Sook Congee.
Brahims have a wide variety of products that centre around spices and curry pastes in easy-to-use sachets. The aromatic flavours of these sauces and pastes will give your taste buds a well-earned treat!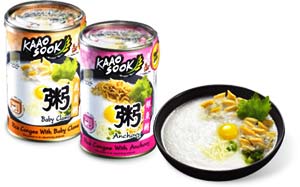 Smiling Fish Kaao Sook Congee is a new brand that offers great tasting congee in an instant! Now it is easy to make delicious congee every time, with no more need to watch the pot for hours!
Come down to our store on 12th and 13th January to taste for yourself!