Mooncake Tasting 2008
We hope that you enjoyed the mooncake tastings that our friends at Tai Tung Bakery provided on 6&7th September and the massive 20 percent discount they gave to all our customers! It looks as though these customers did!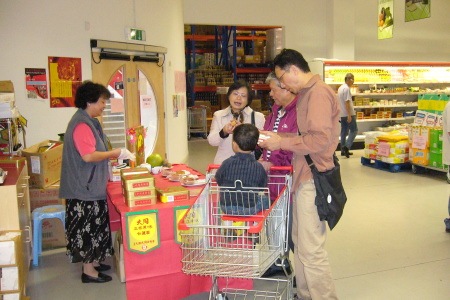 Don't forget that the Mid Autumn Festival will be on 14th September this year, and if you haven't bought tickets for the Overseas Chinese Association Banquet, here are the details again:
This year, the Overseas Chinese Association of Bristol has organised their Mid-Autumn Festival Banquet at Water Sky Chinese Restaurant on Sunday 14th September 2008. The banquet will feature traditional Chinese dishes and for entertainment, there will be performances from Hong Kong singers, a traditional Chinese unicorn dance and a lucky draw, with proceeds going to the Overseas Chinese Association (Registered Charity No.: 1068751).
Venue:
Water Sky Bristol, Chinese Restaurant
Eastgate Oriental City, Eastgate Road, BS5 6XY
Price:
Concessions:
£35 per person
£25 per person for members of Elderly People's Club
£30 per person for members of OCA
Tickets:
Available in-store