Open for Business!
With everyone working till late every night in the weeks running up to today, we finally opened our doors to customers on Saturday 7th July 2007.
We'd like to thank the many people who have helped us to get this far; our hardworking and professional staff, our friends and the friends of friends, without whom the journey would have been a lot harder.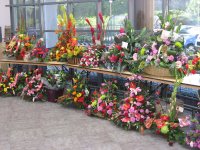 Our first day of trading was greeted with many flowers, which filled the atrium with their wonderful scent. We thank all those who sent us flowers and their kind messages of support.