Wai Yee Hong Celebrates 40 years

In May 1981, Wai Yee Hong opened its doors for the very first time and we have been serving customers in Bristol and the surrounding areas for the 40 years since.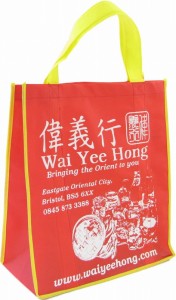 To celebrate Wai Yee Hong's 40th anniversary, we have organised a month of special offers and promotions to thank our many customers and friends. We are so grateful for your support over the last 40 years and we look forward to serving you for many more to come. #WaiYeeHong40
Reusable carrier bag giveaway (01/05/2021 to 31/05/2021)
We shall be giving retail customers a Wai Yee Hong reusable carrier for every £40 they spend in-store and online (excluding delivery fees and gift vouchers), while stocks last. Let's all keep re-using and reduce our reliance on single-use plastics!
Why not take a picture of you using your bag and share it with us on social media? #WaiYeeHong40
40 prizes for 40 years
Shoppers in-store and online can also enter our prize draw for one of 40 prizes of Wai Yee Hong shopping vouchers, with a grand prize of £100:
1 × £100 Voucher
4 × £50 Voucher
15 × £20 Voucher
20 × £10 Voucher
Superior Food Products
Wai Yee Hong would also like to thank Superior Food Products (Essex) Ltd. for sponsoring an additional 10 prizes:
Superior Food Products (Essex) Ltd. was established in 1997 by two experienced Chinese chefs in East London. Their aim was to produce the most authentic and delicious Chinese Dim Sum and specialty foods. As the specialist in authentic Dim Sum Cuisine, Superior Food manages to combine traditional craftsmanship with the latest production technology.
Enter The Draw
For every £40 spend per receipt (excluding delivery fees and gift vouchers), customers will be allocated 1 entry to the prize draw. This competition applies to purchases made with Wai Yee Hong in-store or online from 01/05/2021 to 31/05/2021 inclusive. In the case of online orders, this will be based on the date the order was placed, not dispatched.
Shoppers in-store will need to log their receipt number on our website to enter the draw.
Online shoppers with orders over £40 (excluding delivery fees and gift vouchers) will be automatically entered into the draw.
In-store shoppers will have until 30/06/2021 to register their receipt with us, after which the draw will be closed and the winners will be randomly selected.
Special 40th Anniversary Offers (01/05/2021 to 31/05/2021)
We've arranged a large number of special offers, thanks to our wonderful suppliers. These special 40th anniversary offers will be available throughout May 2021 (while stocks last). Click through to find out more about each promotional offer.
Offers In-store/Wholesale
These offers will be available in-store only, during the promotion period, while stocks last.