Wai Yee Hong celebrates 30 years!
Wai Yee Hong is 30 this year! To celebrate, we're giving away thousands of reusable eco-bags to our customers throughout June 2011. You can also celebrate with us, if you win one of our tables-for-4 at a dinner and dance gala being held at Water Sky Restaurant on 24 June 2011! This competition has now closed.
30 days – 30 pounds – 30 years
We'd like to thank all of you who have supported us over the last 30 years, so throughout the 30 days of June, customers of Wai Yee Hong will be given a reusable carrier bag for every £30 spent in-store or online (while stocks last, Terms & Conditions apply).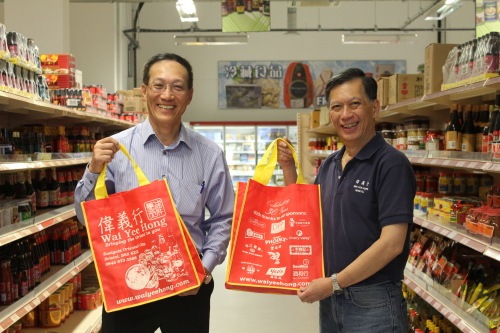 In addition to this, you also have the chance to join in with our celebrations if you enter our competition to win a table-for-4 at a dinner and dance evening at Water Sky restaurant. You'll need to be free to attend our birthday dinner on Friday, 24 June 2011. This competition has now closed. For terms and conditions and details about the winner of the draw, please go to:
www.waiyeehong.com/competition
Reusable Bag Giveaway – Terms & Conditions
One reusable bag will be given for each £30 spend in-store or online in a single transaction (excluding bulk or case items, excluding shipping).
Offer valid on purchases made in store, or orders placed online between 1 June 2011 – 30 June 2011.
Offer is open to retail customers of Wai Yee Hong.
If ordering online, bags will be included in your parcel up to the specified weight limits as detailed on our Shipping & Returns page
All bags are given away at manager's discretion and we reserve the right to refuse.
Offer valid only while stocks last.