Wai Yee Hong, Chinese New Year 2016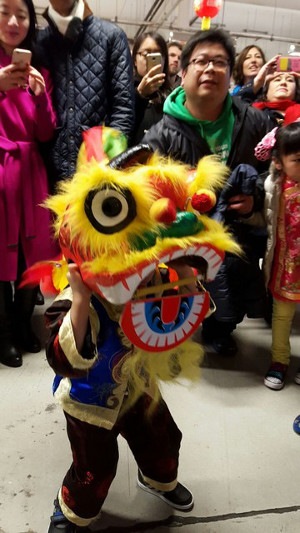 We couldn't believe how many people came out to support us at our Chinese New Year celebrations on 6 February 2016. The mischievous Monkey was already playing his tricks, sending us wild weather and forcing last minute plan changes. Despite forecasts of gale force winds and heavy rain, hundreds of visitors came out to enjoy the festivities to welcome in the Year of the Monkey. We would like to thank all of you who braved the horrible weather to be with us for our New Year celebrations. We have been humbled by your support.
Visitors wishing to warm up enjoyed great street foods served up by Fresh Asia, Gopal's Curry Shack, Ming Foods, Viet Vite, She Sells Sushi, and our own pastry and bubble tea stall. With delicious foods like crispy duck banh mi, beef donburi, spring rolls, dumplings and steamed rabbit-shaped buns available, we were spoiled for choice! Meanwhile our many young visitors were delighted with the facepainting, colourful paper dragons and balloons, and posing as cheeky monkeys in our picture-board (painted by the talented young daughter of one of our members of staff!).
We were delighted to welcome students from two local Chinese schools, who performed traditional Chinese dances with pretty fans and scarves, and sang New Year songs.
Our neighbours, Street Envy provided a modern twist to proceedings with their urban-style dancing, while X-Factor finalist Tita Lau wowed us all with her fantastic singing.
Martial arts demonstrations by Yi Quin Lion Dance Troupe included tai chi and Shaolin kung fu, and then the same team demonstrated these kung fu skills by bringing the dancing lions to life! The lions entertained the crowd with their funny animal mannerisms and after performing on the stage for everyone, they came inside to bless the store.
Wai Yee Hong would like to thank all of our customers again for celebrating with us, and for supporting us for all these years! Gong Hei Fat Choi!
Learn More:
Video of our Chinese New Year 2016
New Year Gallery