Wai Yee Hong, Chinese New Year 2017
Thank-you to everyone who came out on 28 January 2017, when we welcomed the boisterous and noisy Year of the Rooster. We had been checking the weather reports daily, hoping that we wouldn't get a repeat of last year's gale-force winds and torrential rain. Thankfully the weather was much more favourable and thousands of visitors came out to enjoy the festivities to welcome in the Year of the Rooster. We would like to thank all of you who braved the cold to be with us for our New Year celebrations, and made the event such good fun.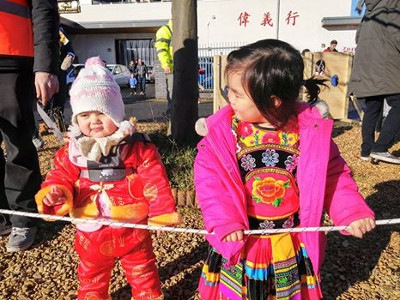 Our young visitors were well catered for, with a Chinese zodiac trail, balloons, paper dragons and face painting by Wow Faces. We had some of our streetfood friends come to serve up delicious foods to visitors. Delicious gyoza by Eatchu, fragrant samosa chaat from Gopal's Curry Shack, banh mi by Viet Vite, and fab sushi and takoyaki from She Sells Sushi. We also had tasty Chinese pastries made by our local Chinese baker, and bubble teas to enjoy.
We were delighted to welcome so many of our friends from the Chinese community, who contributed to the day by performing for us. Everyone enjoyed the traditional Chinese dances, singing and other musical performances.
Dance students from our neighbours, Street Envy provided a modern twist to proceedings with their urban-style dancing, while X-Factor finalist Tita Lau wowed us all with her fantastic singing.
The Yi Quin Lion Dance Troupe demonstrated their kung fu before a lion-awakening ceremony was performed before the new lion could be brought to life. Two lions entertained everyone with their dynamic dancing and spread their good luck by showering the crowd with lettuce, sweets and large clementines. After their main performance, the lions danced through the crowds so that everyone could get up close with them, before coming in to bless the store.
Wai Yee Hong would like to thank all of our visitors for celebrating with us, and for supporting us for all these years! Gong Hei Fat Choi!
Learn More:
Video of our Chinese New Year 2017
New Year Gallery