Wai Yee Hong, Chinese New Year 2019
Thank-you to everyone who came down on 9th Feb 2019 to celebrate Chinese New Year with us, as we welcomed the Year of the Pig. We were excited to see so many people wanting to celebrate this special time with us.
Our celebrations featured lots of local community groups putting on acts for us, and friends and family helping to marshal the event, for which are deeply grateful. Particular highlights in our celebrations this year were the delightful South Gloucestershire Chinese Association dancers, who always put in such a wonderful performance, The Clevedon School Elite Dancers in their wonderful costumes, and Naomi Now & Handy Wu, who made their debut at this year's New Year celebrations with 2 wonderful dance performances.
As in previous years, this year's celebrations raised money for Wallace & Gromit's Grand Appeal – thank-you for everyone's kind and generous donations. If you would like to donate something to them, click through to our Virgin Money Giving Page.
Street Envy opened proceedings with their street-dancing and were followed by the beautiful fan dance by the ladies from South Gloucestershire Chinese Association and later, a graceful Chinese folk dance. We enjoyed seasonal songs from members of the local Chinese community and traditional dances by Naomi & Handy. The Clevedon School Elite Dancers returned with a professionally choreographed contemporary dance and again to perform a Tibetan-style dance in their fantastic costumes.
Wow Faces returned to provide a bit of colour and (biodegradeable) glitter, and we ran a fun Chinese zodiac trail and craft table. As usual, our lion dance costume was on display in-store in the lead up to Chinese New Year.
We loved sampling the different street food at the stalls this year, which included sushi from She Sells Sushi, Bento from Tsukemono, Buddha bowls from Gopal's Curry Shack and delicious family-style meat & rice from Cha's. New Year regulars, Eatchu, returned with a Chinese style steamed jiaozi offering, which went down very well with the crowds, as did the Thai dishes served by Desy Thai and adjoining Thai dessert stall.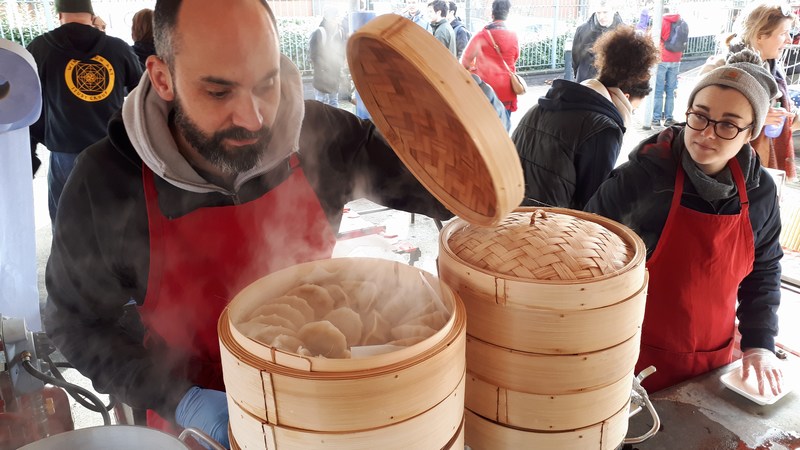 This year saw the addition of two new traders: Zaleha Olpin of Masterchef 2018 with her Malaysian Kitchen (and famous non-crispy rendang), and the fabulous Omar's Kitchen with their ludicrously tasty shawarma and pakora boxes.
Live firecrackers signalled the arrival of the lively lion dances, performed by Yi Quin Lion Dance Troupe. The lions were certainly lucky, as the weather stayed dry right up until they stepped indoors to bless the store and bring good luck for the coming year. Despite the rain later on, we hope that everyone enjoyed our community event. We love celebrating this special time of year with everyone.
Wai Yee Hong would like to thank all of the community groups who contributed to our New Year celebrations. Thank-you the Avon & Somerset Police and cadets for joining us again and for looking after the lost dog until its owner could be located. Thank-you to all the volunteers who helped to make the event possible and to all our visitors for getting into the New Year spirit! Gong Hei Fat Choi!
Learn More:
A greeting from the God of Prosperity!
New Year Gallery