WaiYeeHong.com & Grazing Asia June 2011
On 19th June, WaiYeeHong.com joined an exclusive group of food-lovers for the launch party of Grazing Asia, a unique new Pan Asian supper club in London. The launch party was held at Jamies Oliver's Fifteen as a charity event to raise funds for Jamie Oliver's Fifteen Foundation.
Guests were treated to a 5-course menu featuring dishes of Burmese, Vietnamese, Malaysian and Japanese origins.

Seared Tuna with Yuzu Ponzu & Sesame Dressing
Yuzu is an aromatic asian citrus fruit, with a flavour sometimes compared to mandarin and grapefruit.

Spicy Burmese Fishball Salad aka Nga-pè Thoh(k)
The cuisine of Burma (myanmar) is the fusion of many different cultures, from the countries that border with this nation, most notably China, Thailand and India.

Baked Crispy Pork Belly with Banh Cuon, Pickled and Fried Shallots with Vietnamese Cured Ham, Thai Basil and Coriander
Coriander is a leafy herb, often referred to as Chinese Parsley, which has a flowery aroma.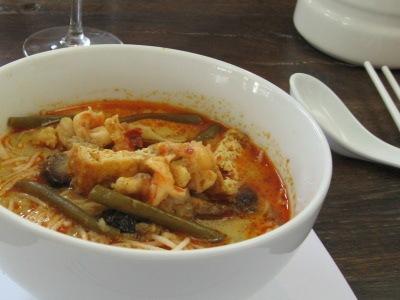 Malaysian Curry Laksa
Laksa is a classic Malaysian hawker-stall dish of noodles in a curry broth.
What? Are you kidding? Dessert didn't survive long enough to be photographed!
Green Tea Pannacotta
Green teas are not fermented, unlike red teas. This leaves more antioxidants in the tea, making for a healthier brew.
The supper club is the result of a collaboration between four Asian food bloggers based in London, joined by Jamie Oliver's website editor Danny McCubbin and some Fifteen trained chefs.:
The event managed to raise over £1200 in just one afternoon, but could always use some more help! If you want to donate to this great cause too, you can do so at the Jamie Oliver Foundation Virgin Money Giving Page. Tell them 'hi' from us!